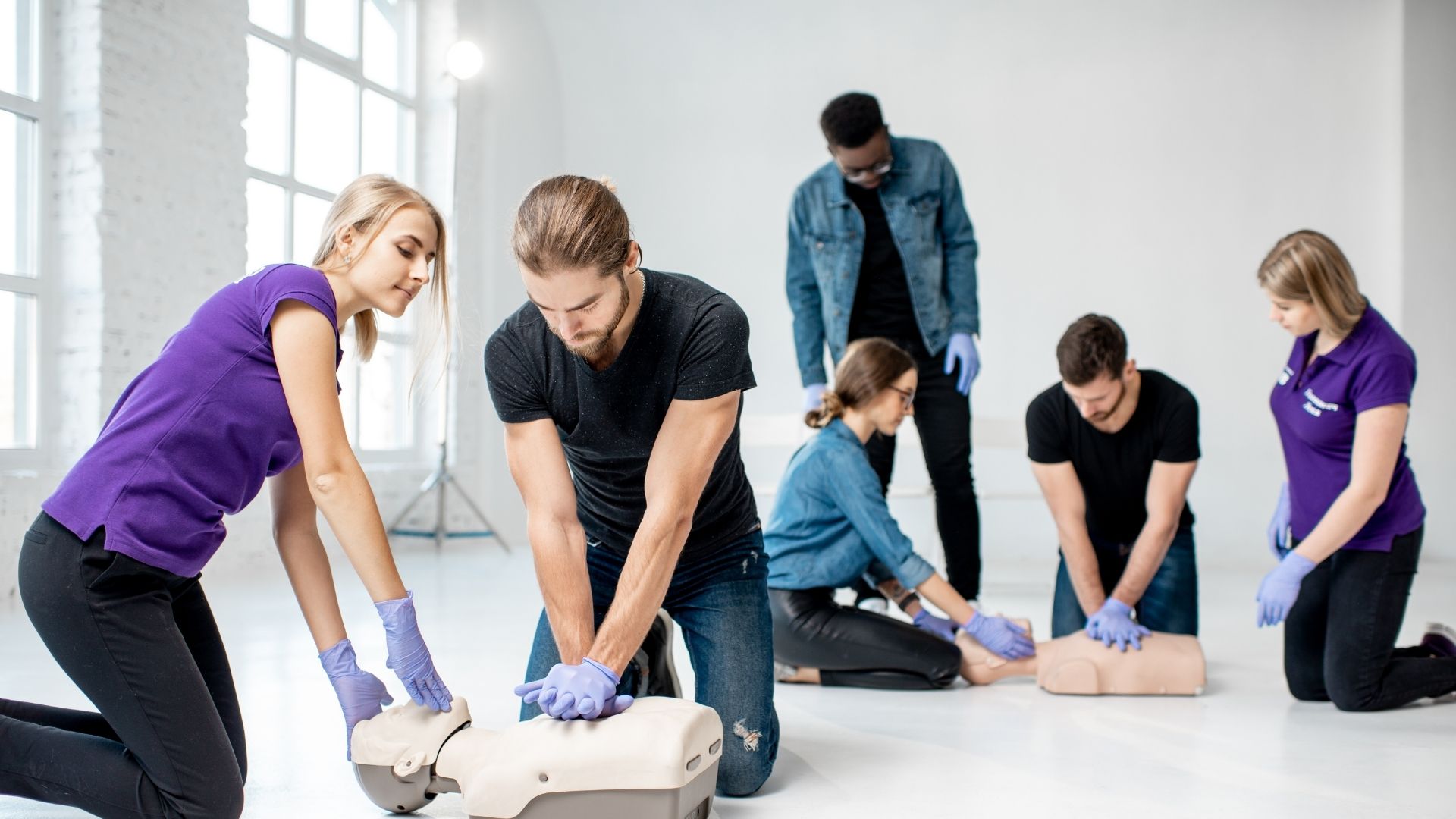 Having your CPR Certification for Babysitting can be very helpful and helps parents trust you to watch their kids more. The youngest are the most vulnerable group, so it is the responsibility of the caregiver to protect them. That is why one of the first things that every babysitter should consider is getting a CPR certificate, in addition to getting First Aid certification. It's important to be prepared for a possible emergency situation when the child stops breathing or goes into cardiac arrest.
Therefore CPR certification for babysitting is becoming one of the top qualifications in this profession.
Why Is CPR Certification For Babysitters Needed?
Cardiopulmonary resuscitation is an important skill that can save lives when even seconds can make a change. Nonetheless, this procedure can be challenging to perform when needed in a real-life situation, especially when it comes to babies.
CPR is very different when given to adults and when given to babies and smaller children. For example, the protocols mandate using one-hand chest compressions for smaller children and both thumbs for babies.
Some of the most common reasons for needing to do CPR on a baby are
Breathing problems related to Asthma
Possible sudden infant death syndrome (SIDS)
The importance of well-trained caregivers can be seen in their quick response and restoration of breathing and circulation before the emergency personnel arrives. Additionally, CPR is needed to preserve brain function and support spontaneous blood flow before other measures are taken.
This is even more important when an infant suffers a heart disease. The quality of cardiopulmonary resuscitation is crucial in such situations!
CPR Certification for Babysitting – How and Where to Get It?
Today, many professional babysitters are already CPR-certified. In each country, tens of institutions and enterprises provide such training services. For example, as a caregiver, you can get a basic CPR or BLS Certification by applying and finishing a CPR course at the Red Cross or the American Heart Association.
The CPR classes for babysitters are conducted in person, but there is a possibility to take them online as well. Moreover, you'll get a personal instructor and a mandatory in-person skills check. The in-person skills check is usually done on mannequins or dolls. The CPR certification for babysitting process includes tests with different types of questions: facts, scenario-based, combined, and multiple-answer questions.
This is essential for babysitters because the practical examination of knowledge guarantees that the baby is in the very best hands. This way, the institutions vouch for the knowledge and skills of a babysitter.
The Importance of A CPR Certification for Babysitting
The importance of Basic Life Support and Cardiopulmonary Resuscitation is unparalleled concerning emergency cases related to breathing and cardiac problems. Besides that, babies are much more sensitive and can suffer these types of complications and obstructions much more frequently.
Following are some of the incomparable knowledge and skills you'll acquire by getting a CPR certification for babysitting.
Assessing The Severity of The Situation & Its Prevention
A baby can suffer cardiac arrest or breathing problems due to many different reasons. For example, it can develop an allergic reaction to a specific type of food or just choke on the unchewed morsel of its favorite dish.
The caregivers with a CPR certificate will instantly recognize the main reason and act accordingly. Additionally, a babysitter with such skills can also recognize the different risks, prevent them in due time, and avoid potential health damage.
It is easier to prevent an adverse situation by knowing the potential risks. And if something cannot be prevented, assessing the severity of the situation and acting accordingly is extremely important.
Instantly Identify the Signs of Choking
In many cases, choking occurs instantly, and the caretaker in charge should be fully prepared before it turns into a fatal situation. Instant identification of the signs of choking is a life-saving skill. It is said that choking is the 4th leading cause of death in the USA, especially for children under the age of 3. For this reason, a CPR certification is something that all babysitters should have.
This is because CPR classes for a CPR certification for babysitting usually include various topics crucial for instant identification and acting in various life-threatening situations. Some of the more frequent topics are:
Assisting and helping conscious and unconscious choking victims regardless of age
Proper usage of an automated external defibrillator (AED)
By acquiring the CPR certificate, you'll be able to act immediately and prevent any potential damage to the infant's health.
Knowing the Exact Time When to Call 911
Calling 911 isn't always the first and most clever option. Sometimes the baby may suffer a minor obstruction or allergic reaction that can be handled easily. As a babysitter, the CPR certification will provide you with the know-how and professional skills for assessing the severity of the situation.
For example, certified caregivers know how to assist the baby and what to try before calling an emergency team. Moreover, professional and certified babysitters are equipped with knowledge of helping the baby until the 911 services arrive.
Keeping the Knowledge & Skills Fresh
Usually, the CPR classes end up with a certificate that vouches for the skills and knowledge of the babysitter. However, these skills should be reaffirmed over time. This is because not all caregivers face a real emergency when cardiopulmonary resuscitation is necessary.
The American Red Cross and the AHA (American Heart Association) will require that you renew your certificate every two years. This comes quite naturally due to the updates in the program and the broadening of the spectrum of CPR activities.
These skill refreshment programs and examinations for CPR certification for babysitting are usually done online.
CPR Certification for Babysitting To Help Keep Babies Safe
From allergic reactions to poisoning and choking – babies will always find a way to frighten you and leave you trembling on your feet. But let's face it – we all know it's not their fault! Babies are sensitive and vulnerable to environmental factors, and they experience more frequent cardiac arrests than adults or children.
They are also very curious. Imagine how fast those chubby little hands can be and put anything right in the mouth! Moreover, they can suffer cardiac arrests, heart and respiratory complications much more frequently than children or adults.
For that reason, parents should always find and hire individuals with a CPR certification for babysitting, that can prevent such risky situations. Furthermore, they should also possess basic CPR skills and knowledge to avoid fatal consequences.
Wrapping up Why CPR Certification for Babysitting Is Important
We hope that we made it clear to you why CPR certification for babysitting is crucial throughout the whole process of taking babysitting classes. Currently, many professional caregivers already have these certificates, while others are in the process of acquiring them. There are also many institutions and organizations offering these certification and recertification services.
The types of questions and exam grading will vary between different organizations, but the fundamentals always stay the same. You'll have to know how to act in different situations and prevent further health complications and potentially save a life.