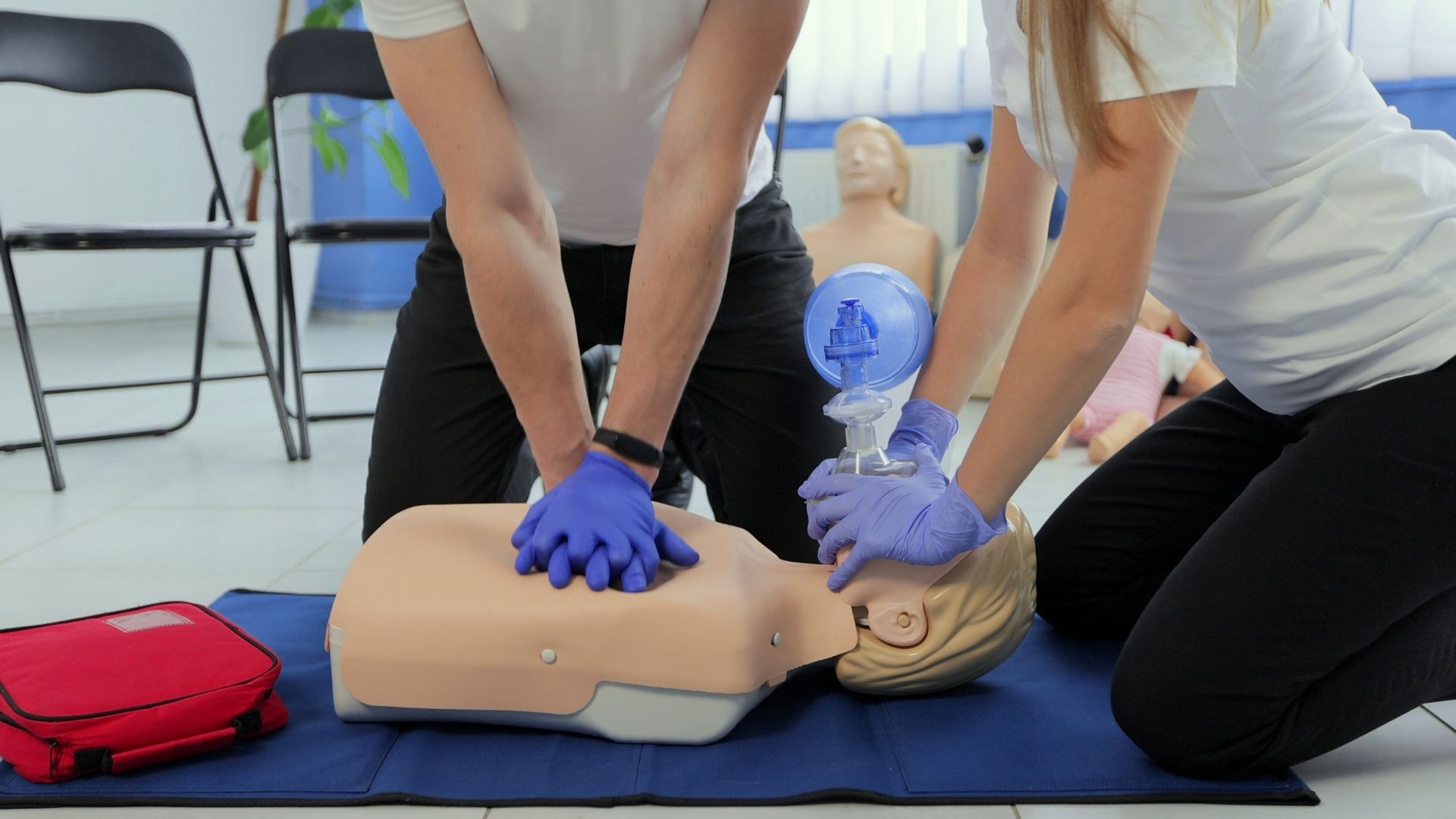 Let's look at why it's important to have your CPR certification for EMT technicians from a trusted CPR course. Emergency Medical Technicians (EMTs) are the first responders on the field, often before a patient reaches the crowded hospitals or 911 services. According to the US Bureau of Labor Statistics, there are around 161,400 EMTs employed on a national level.
Though a specific type of education in the field of medicine is not required, nor holding any kind of a university degree, CPR certification for EMT technicians is one of the primary requirements.
What Does It Take To Become an EMT?
Becoming an EMT doesn't require any specific education. However, it's recommended that high school students who wish to pursue a career in EMT at least focus on signing up for anatomy, biology, and chemistry-related subjects.
Basically, you'll need to provide these basic documents to apply for a certification for an EMT:
A birth certificate so you can show you're of legal age
Have a degree from a secondary education institution (high school diploma or GED)
A valid CPR certificate (most usually acquired by the Red Cross or the American Heart Association)
The 5 Basic Steps of Becoming an EMT
Regardless of the state you live in, some requirements are standard for all EMTs. These are the basic steps to go through if you want to become a basic EMT.
Basic Graduation Requirements
As we mentioned, gaining a high school degree or GED is the first step toward applying for an EMT status. This doesn't mean you can't apply for an EMT certification if you have finished university. In these cases, your diploma can only increase your chances of getting the certificate faster.
CPR Certification
Acquiring a CPR Certification for EMT Technicians from nationally accepted institutions (Red Cross and American Heart Association) is seen as an advantage in each state, regardless of the job you're applying for. This especially goes for EMTs.
However, each state has a unified list of institutions accredited to give out these licences, so make sure to check this for your area.
Find an EMT Program
If you want to become an EMT, then you must go through a state-approved EMT education program. Many different institutions provide EMT teaching programs, starting from emergency care centers all the way to universities.
Pass a Cognitive Examination Test
This test is a unified one, meaning that it is the same for all candidates, regardless of the state they live in. It consists of a computer test of 60-100 questions from various backgrounds and topics, from basic biology to more advanced common knowledge in the field of medicine and human anatomy.
Acquiring the demanded "standard level of competency" depends on your ability to score at least 70% on your test.
Pass a Psychomotor Exam
This exam is conducted by your state's emergency management services officers inside local training facilities. Conducting proper CPR and other various techniques of assisting your patient, such as re-locating a patient who has a fracture without mobilizing their spine, are tested in this exam.
Types of EMTs Who Need CPR Certification for EMT Technicians
EMTs are part of the emergency medical service system. They are the first responders in serious car crashes, natural disaster accidents, gas explosions, and other incidents.
Before other more advanced support teams reach the area, EMTs are the people that surround the area and mitigate the threat, which is often accompanied by performing CPR or stopping heavy bleeding.
However, within the Emergency Medical System, there are different levels of knowledge. Gaining additional experience over the years and passing certain cpr classes and certification courses is used as an advancement mechanism among the different types of EMTs. But acquiring a CPR certification for EMT technicians, regardless of the level, is essential.
Emergency Medical Responders (EMRs)
An EMR course is the first level within emergency medical services. It acquires the basic life-saving skill, and the ability to perform CPR is definitely a high priority.
Newbies are also acquired to pass the basic cognitive and psychometric examination to test the ability of their rapid performance under a lot of pressure since they'll be demanded to offer hospital-like care for patients outside of the hospital surrounding. The average time to become an EMR is about 55 – 65 hours.
Emergency Medical Technicians (EMTs)
Becoming an EMT demands longer and more intense training, as well as the ability to drive a specialized medical emergency van. Thus they are allowed to transport critical patients directly to the hospital after assisting with their critical condition and putting them on the hospital bed without the chances of breaking a bone or risking moving the patient's spine.
Moreover, EMTs are allowed to analyze the circumstances and give medication to their patients, which requires more in-depth pharmaceutical knowledge. As such, at least one EMT is acquired to be present in the emergency ambulance.
The average training for EMTs lasts longer, around 120-170 hours.
Advanced EMTs
Advanced EMTs are more experienced EMTs who decide to take the next step in pursuing more progressive technical knowledge within their existing career path. Aside from the regular courses, an AEMT signs up for additional 350 hours of training.
Within this time, there is a more advanced approach to sophisticating the already taught techniques. AEMTs also learn how to handle more upgraded medical equipment and perform different procedures with the available tools, such as:
Dissolute liquids and perform liquid medicational therapies
Initiate peripheral intravenous lines in patients that aren't conscious, as well as maintain them
Draw peripheral blood specimens
Intube patients and perform tracheobronchial suctioning
Perform ECG and cardiac defibrillation manually
Paramedic
Paramedics are acquired to have at least 8 months, or up to a whole 2 years of intensive life-saving training. Accounted in hours, this takes advanced training of more than 1,600 hours and may even lead to gaining a bachelor's degree in certain universities.
Paramedics can perform basic operational procedures and have the highest responsibilities out of the entire medical staff inside the EMT ambulance. They act as the chief medical doctor in their crew unit and also learn team management within their advanced module.
What Does the Typical CPR certification for EMT technicians Cover?
CPR training for EMTs teaches you several things. Here's what you can expect to learn during the CPR classes for EMTs:
Breathing and compression techniques (adults, infants, and kids)
Obstruction of the airways and causes
Hot to use an Automated External Defibrillator (AED)
The basic first aid and bloodborne pathogens training
How to properly attach a bag-mask to patients
Real-life cases and scenarios that don't go according to the regular procedure, and how to handle them
The skills and techniques taught during CPR depend on the institution, as well as the type and profession for which you're acquiring the CPR certificate.
Online vs. In-Person Classes For CPR Certification for EMT Technicians
If you want to become an EMT, you must go through the basic CPR training for EMTs. This would give you a CPR certificate that you will later need to attach with all other documents when applying for the EMT certification.
To that matter, the CPR training and gaining skills should be done in person since the practical aspect of the technique is better here. Though many institutions also provide online CPR certification, there are also many schools and institutions that won't accept an online CPR certificate for EMTs.
Note that regardless of the way you get the CPR certificate, the only accepted ones in the US are those issued by the Red Cross or the American Heart Association.
Wrapping Up What We Learned About CPR Certification for EMT Technicians
CPR certification for EMTs is one of the basic requirements if you want to get this title. Before you even think about applying for the EMT exam, having a CPR certificate is the first thing to think about.
Though there are numerous licensed online and in-person certification institutions, the in-person taught technique is far more appropriate and advanced, especially for EMTs, as these are the first responders in critical situations.